Virtual tour of the MINATEC Visitors Center
Each year, the MINATEC campus welcomes more than 40,000 visitors from industry, research, universities, and schools.
The MINATEC Visitors Center is designed to give guests an overview of the micro and nanotechnology research carried out at MINATEC.
---
Guided tour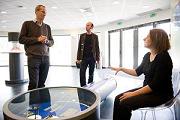 Our 200 m² Visitors Center offers a wide range of video, photography, and interactive models presenting MINATEC's research activities. All exhibits are available in both French and English. The Center is divided into two sections :
A journey into the world of the infinitely small
Behind the scenes at MINATEC: A virtual tour of the campus
---
Whom is the Visitors Center for?
The Visitors Center is open to guests invited to the campus by MINATEC or MINATEC participants or partners (like Grenoble-based science education organization CCSTI)
---
Who designed the Visitors Center?
The Visitors Center was designed jointly by MINATEC and Grenoble-based science education organization CCSTI. MINATEC provided the exhibit content and CCSTI contributed expertise in exhibit design and science education.
---
What else does the campus offer visitors?
While the Visitors Center provides a brief introduction to the nanoscience and nanotechnology work done at MINATEC, guests can learn more about our campus and research through:
The CEA-Leti Showroom: Over 400 m² of demonstrators illustrating the technologies our labs have developed for partner companies
CIME Nanotech: The research and education building that is home to the MINATEC Nano@school program
The Technology Management showroom run by Grenoble Ecole de Management business school
The Casemate–CCSTI, a science education center for the general public .