Le Parvis des sciences (Grenoble Science Fair)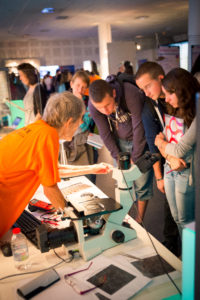 Every year during France's national science week, the esplanade in front of MINATEC is transformed for the Parvis des Sciences science fair. There are exhibits for visitors of all ages, made possible by scientists and students from Grenoble Institute of Technology labs (CIME Nanotech, LMGP, IMEP-LAHC, GSCOP, G2ELab) and schools (Phelma, ENSE3), CEA labs (CEA Tech labs and IRIG), the large scientific instruments (ESRF, EMBL, and ILL), science education outreach providers, research projects, and local industrial companies.
The fun, hands-on activities are designed to illustrate "how stuff works" and explain the research being conducted by all stakeholders on the GIANT campus.
The topics covered include nanotechnology, chemistry, microelectronics, energy, biology, robotics, and more. Every year, more than 40 activities are spread out over three days to the delight of the more than 3,500 visitors from across the Greater Grenoble area.
The first two days of the fair are reserved for local school groups; the third day is open to the general public (free of charge, registration not required).
Contact: sebastien.berger@cea.fr or pds@giant-grenoble.org