Nano@school, teaching high-schoolers about micro and nanotechnology
Every year, students and teachers from Grenoble area high schools visit MINATEC to tour the campus and learn about the exciting world of nanoscience. Nano@school participants also get a unique opportunity to use CIME Nanotech's state-of-the-art teaching facilities (at the Grenoble Institute of Technology-Joseph Fourier University platform).
TEACHERS: A DAY OF IN-SERVICE TRAINING
Every year, around 20 physics and chemistry teachers from the Grenoble area school district come to MINATEC to learn about nanotechnology. A special in-service training day is held in November at CIME Nanotech, where nanotechnology experts oversee workshops and other activities. Some participating teachers come back with their classes for a Nano@school session.
HIGH SCHOOL STUDENTS: HANDS-ON SCIENCE EXPERIENCE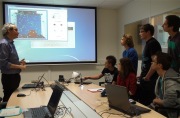 Nano@school was established in 2010 for science-track high school juniors and seniors enrolled in Grenoble area schools. The day-long workshop gives students a hands-on science experience at the CIME Nanotech teaching labs, where they complete a variety of activities (microscopy, cleanroom, biotech, microsystems, and more). These activities are supervised by nanotechnology PhD candidates, faculty, and research scientists.
In 2019 a total of 28 sessions were held, serving:
794 high school students,
including 102 international students;
84 accompanying teachers,
with the support of 40 expert facilitators.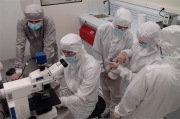 These workshops offer a unique opportunity for students to experience working with advanced equipment first-hand and are a great addition to classroom learning.
HOW TO ENROLL
All science-track junior and senior classes from Grenoble area high schools are eligible. Every September, the Superintendent of Schools sends the application file out to all schools. The application deadline is mid-October.
The Nano@school steering committee selects schools based on their application. The committee is looking for a demonstrated interest and a clear statement of how the program relates to the home school's curriculum.
Schools that are admitted are contacted in late October so that the schedule can be finalized. All classes selected come to MINATEC for a full day between November and June.
Contact: sebastien.berger@cea.fr
Nano@school is part of the GIANT@school educational outreach initiative.