Biology and Healthcare Technologies Platform
The MINATEC Biology and Healthcare Technologies Platform is home to 210 engineers, chemists, physicists, and biologists collaborating with research labs, the staff at Grenoble's University Medical Center, and businesses in the biomedical sector like bioMérieux, Trixell (imaging detectors), and Fluoptics (pre-surgical optical imaging using fluorescence).
Unlocking innovation through miniaturization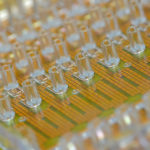 Within just a few years, the platform has grown to become truly European in scope. Platform researchers are today focusing their efforts on miniaturization as the most promising pathway to designing more effective, less invasive, and more energy-efficient medical systems.
The platform conducts research on a broad array of topics:
In vitro and in vivo diagnostics, including preclinical and clinical imaging
Targeted drug delivery via biocompatible nanoparticles
Implantable systems and the associated communication technologies, including micro and nanoelectrodes and radio modules for cardiac implants
Portable sensors to prevent dehydration via continuous sweat testing (for firefighters and athletes, for instance)
These activities also encompass in vitro environmental diagnostics such as air, water, and effluent testing.
Contact: severine.vignoud@cea.fr