The MEMS 200 Platform
The MEMS 200 Platform brings together in 2,000 square meters of clean room space all of the technologies needed to develop new microsystem applications. Research at the platform is conducted on a contract basis for integrators, component manufacturers, and silicon foundries. Projects range from determining basic technology concepts through to the prototyping and zero-series production of several hundred thousand units.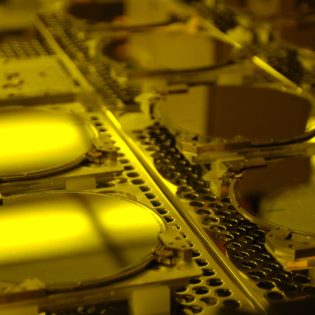 The platform's 200mm-standard equipment represents more than €30 million in investment. The facility is open 24 hours a day, run by engineers and technicians working in three shifts.
The research projects carried out at the platform primarily concern six fields: MEMS, packaging/3D, magnetism, radio frequency, biology, and micro-displays.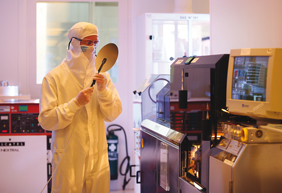 Manufacturers can use the facility to develop new microsystems, saving them costly—and potentially premature—investments in their own expertise and material resources. The platform counts around ten partner companies and around twenty collaborative projects, all of which are governed by stringent confidentiality requirements. Appropriate barriers have also been set up to prevent information leaks between confidential projects.
The platform's flagship projects include the development of innovative through silicon via (TSV) interconnection technologies for mobile telephone imagers with STMicroelectronics, and the development of several highly-innovative microsystems in conjunction with start-ups like Microoled (micro-displays), APIX (miniaturized gas testing systems), and Wavelens (ultra-compact optical components for miniature cameras).